After being picked up in the morning by one of our vehicles, you will be brought to our dive center in Jomtien, Pattaya, where you will be equipped with a full set of fully serviced scuba diving set.
Once all are ready, we set of to the Bali Hai pier or Samae San, from where you will board one of our 3 comfortable boats that are fully equipped with Oxygen as well as safety gear. All boats have plenty of space to lie down and relax as well as toilets and showers, 2 even have sun decks, so bring the sun block along.
After a short boat brief, to familiarize yourself with the boat as well as where all the facilities are, you can then set up your gear and relax on the short trip out to where we will do the first dive, the time it takes to go to the dive sites will average about 45 minutes, depending on dive site. Along the way to the first dive site, you will get a nice breeze, whilst see the many islands pass you by as we sail off to your first adventure.
Just before you jump in the water, you will off course have a dive brief from either your Team Leader or PADI Instructor, who will go through the whole dive site that you are about to emerge yourself into, so that you can be familiar with it as well as know what to expect in terms of marine life as well as other things such as currents, dive procedures and safety issues, then you do your buddy check, look towards the horizon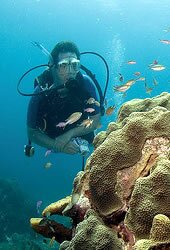 and take a large step forward.
After your first dive, once back on the boat, you will have time enough to change your tanks as well as relax over a great and delicious lunch, which is included in all our prices as well as water, tea and coffee, made up of a mix of Thai and Western food (the menu changes daily), as well as vegetarian options for those who request it. This is a great time to compare notes on your dive as well as past dives, dive locations, dive equipment and get to know new people, who share similar interests.
We will then move the boat to the next location (we may do this after the first dive), where again you will get a dive brief, before your buddy check and then into the blue.
After your final dive (unless you have paid for one extra) we will head back to the pier, whilst you relax and enjoy the ride, chatting with the other divers. All the Equipment will be packed and made ready for transport back to the Dive Center in Jomtien.
Once on the pier, you will get back on our vehicles and brought back to the Dive Center, where you will be able to stamp your log book, as well as finish with the Instructors if you are on a course. You are off course you welcome to browse around in our well stocked dive equipment shop.
When you are finished, we will then take you back to your hotel.
This is a great way to spend a day out on the boat, alone or with the family, enjoying the nature and being part of it, whether your are snorkeling, diving or just coming along for the ride.
We have dive trips every day for several location depending on dive charts and weather condition.