Try Scuba Diving in Bangkok, no Experience Necessary!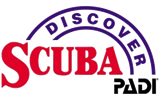 PADI have a 1 day experience that is called a "DSD" – Discover Scuba Diving. The day involves familiarity with scuba equipment, personal instruction and 2 dives on the wonderful reefs that we have here in Pattaya, or in a pool in Bangkok at your convenience.
This program let's you safely view the underwater world in only one day. You learn the basics of diving at one of the beaches, and then you will be led on an exciting tour of the fringing islands reefs. If you already tried a Scuba Diving Experience or are Certified by PADI, BSAC, CMAS or any other agency, check with us to see how credit from these courses may apply to the open water program.

It's never too late to learn! We have introduced many people to the underwater world via the Discover Scuba program. People often tell us that they have wanted to dive for years, but they have never gotten around to doing it. Others have told us that they thought they were too old – well let me tell you that we have introduced people up to the age of 76 to diving via the Try Scuba program.
So here's your chance. As soon as you Try Scuba Diving, you're on your way to an internationally recognized certification. That's because you may learn skills used in the Certification Diver Course during your Discover Scuba Diving adventure. If you and your instructor elect to practice these skills, they may be credited toward the Diver Certifications.

Cost 4,000 Baht including pickup service, services of PADI dive Instructor, training exercises, 2 discovery dives, full set of equipment and lunch.
Discover Scuba Diving Program Schedule
This one-day dive experience designed for those who want to try scuba diving prior to taking a dive course. Perhaps even for those who don't have the time to take a course but still wish to experience the underwater world, the beautiful corals, fish and islands here in Thailand.
The course is conducted over one full day. The first dive starts in shallow ocean water where you will learn some basic skills to enhance your enjoyment before going on a supervised dive with a PADI instructor. After lunch you'll go off for another pleasure dive, no skills to learn this time, and get to share the sea with such creatures as turtles, eels, nocturnal harmless sharks and thousands of fish. The maximum depth for this each dive is 12 meters.
With advance notice, we can take you to a swimming pool on the day prior to your dives and learn the skills and therefore make for a more relaxing day for your ocean dives.
Book Your Discover Scuba Trip
As long as one is physically fit to dive there is no matter on the size, shape or age. If you feel that scuba diving is for you but never had the opportunity to try diving – let us show you what you are missing diving here in Pattaya.
We have DSD training every day. Please contact us a day before your DSD experience with your hotel details and telephone number to arrange hotel pickup. We pick up our customers for free at 8:15 ? 8:30 in Pattaya and Jomtien Beach area. You should return to your hotel by 5:00 pm from our 2-dive day under supervision of fully trained PADI professional Instructor.
cforms contact form by delicious:days